PROJECTS IN DEVELOPMENT/PREPRODUCTION/PRODUCTION:
"AMERICAN MAY DAY"
A feature documentary explores a curious event in Mosinee, Wisconsin when the "Communist" took over their town for one day on May 1, 1950.  Perhaps Americans today should experience the privilege of democracy?  Co-directed and co-produced by James Kimble and Thomas Rondinella as a Catfish Studio Production.  In Production.
"THE CELLAR"
A feature horror/thriller.  A female "The Stepfather".  Written and Directed by Jayson Amoroso, produced by Thomas Rondinella and Catfish Studios.  In pre-production, shoots in Spring 2015.
"VACANCY"
A feature thriller from Matthew Garrett (Beating Hearts, Morris County) that looks a loneliness in an unique way.  Produced with Expressway Productions and Catfish Studios.  In development.
COMPLETED PROJECTS:
"BIG SHOT"
short film about a girl that proposes a deal to the mob that they can't refuse.
Currently on the festival circuit
"TEAMING UP"
A short comedy about corporate raiders that make a "killing".  WORLD PREMIERE- Orlando Film Festival-Oct. 2015;  Englewood International Film Festival, Chicago, Il., October 2015; Tampa Bay Underground Film Festival, Tampa Bay, FL, December 2015; Depth of Field International Film Festival, Fall 2015; Short. Sweet Film Festival, Cleveland, OH, March 2016; Garden State Film Festival, March 2016; UNO Film Festival, New Orleans, LA, May 2016; UFVA Conference, Las Vegas, NV, August 2016.
"COMMUNICATION BREAKDOWN"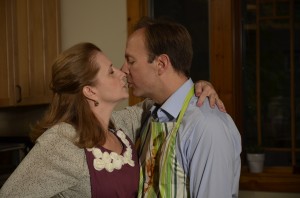 A short comedy that explores a marital spat in a unique way.  Written by William R. Pace, Directed by Thomas Rondinella.
World Premiere: Sun and Sand Film and Music Festival, Gulfport, MS. October 2014.  Garden State Film Festival, Atlantic City, NJ March 2015, Hang onto your Shorts Film Festival, Asbury Park, NJ 2015, UNO Film Festival, New Orleans, LA, 2015, Brightside Tavern Film Festival, Jersey City, NJ- NOMINATED- Best NJ Short.
"SANKOFA: The Untold Story of Harry Herbert Pace"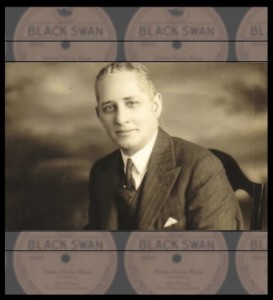 "SANKOFA: The Untold Story of Harry Herbert Pace" is feature length documentary produced by Catfish Studios currently in post-production.
Harry Herbert Pace was one of the most important African American entrepreneurs and civil rights activists of the 20th century. Yet, when he died, his children passed into the white race, and never spoke of their African American ancestry, or their father's legacy again, and this great business and cultural pioneer was all but forgotten by society.
Then in 2007, Harry H. Pace's grandson discovered the family secret and embarked on a unique journey of discovery, identity, and celebration, in the hope that Harry Herbert Pace's achievements would once again be remembered.
SANKOFA: The Untold Story of Harry Herbert Pace IMBD link.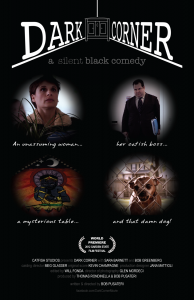 "Dark Corner" a short silent comedy produced by Catfish Studios and directed by Bob Pusateri.
World Premiere: Garden State Film Festival, March 2012; Waterfront Film Festival, Saugatuck, MI, June 2012; Minneapolis Underground Film Festival, August 2012;
Downbeach Film Festival (Nominated for five awards-Best Short, Best Director, Best Writer, Best Actress, Best Actor; Winner- Best Director, Best Actress)
October 2012; Shared Concert- Musical score performed live, University of Albany- State University of New York, October 2012; The Noyes Museum of Art of Stockton College Independent Film Festival, November,2012.
Watch the film here:  http://www.gmordeci.com/film/215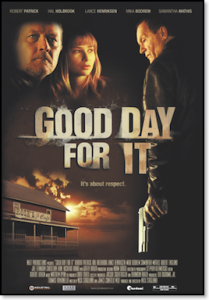 "Good Day For It" Thomas Rondinella produced this feature film , a modern day western drama.  The film was completed in March 2011 and has played in four film festivals:
Sonoma Film Festival, 2011- WINNER, Audience Award, Best Feature
Philadelphia Cinefest, 2011
Nashville Film Festival, 2011
Newport Beach Film Festival, 2011
Long Island International Film Festival, 2011.
Curb Entertainment, the International Sales distributor, has sold the film worldwide, and Naedomi Media,
the domestic distributor, released the film theatrically in Los Angeles on July 22, 2011.  The film debuted on DVD nationally on October 28, 2011 and is available via Netflix & RedBox.
Here is a link to the trailer of the film: A GOOD DAY FOR IT Trailer
Here is a link to Robert Patrick talking about the film: Robert Patrick Interview
Here is a link to Hal Holbrook, Robert Patrick and director Nick Stagliano speaking about the film: The Sonoma Film Festival Interview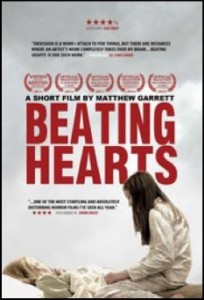 "Beating Hearts" a short, nine minute horror film produced by Catfish Studios. The director, Matt Garrett, also directed the feature film MORRIS COUNTY that Catfish Studios produced.
"Beating Hearts" has played in seventeen American and international film festivals to date and has won two awards:
World Premiere: Fantasia Film Festival, Montreal, CA Philadelphia Film and Music Film Festival All Things Horror New York Horror Film Festival Philadelphia Cinefest Boston Underground Film Festival, Winner – Best Director – Short Feature Dead By Dawn Festival, Edinboro, Scotland Rio Fantastic Festival, Rio De Janiero, Brazil Spooky Movie International Film Festival Celluloid Screams 2011, Sheffield, England Daggers Film Festival, New York Museum of Arts and Design Chicago International Film Festival Rio De Janeiro International Short Film Festival, Rio de Janeiro, Brazil      Special Presentation: Blue Sunshine, Montreal, CA; Belfast Film Festival, Northern Ireland; A Night of Short Films, Trocadero-Philadelphia, PA.; Motel-X, Lisbon International Horror Film Festival; Rumschpringe International Short Film Festival, Lancaster, PA.
WORLD PREMIERE ON FEARNET – APRIL 15, 2013.  See it here: http://www.fearnet.com/shorts/beating-hearts
"Beating Hearts" will be released with "Morris County" on DVD.
"SCRAPPERS: How The Heartland Won World War II" a Catfish Studio feature documentary concerning the 1942 Scrap Iron Drive in Nebraska and contrasting the effort to today's war on terror.
SCRAPPERS is distributed by Passion River, has played on Nebraska Public Television, available in over 100 libraries and can be purchased in Catfish Studios online store.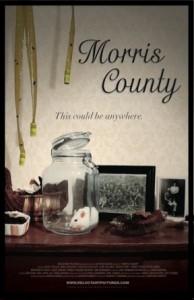 "MORRIS COUNTY" is a feature length trilogy of dark tales concerning family life that take the viewer to the edge of uneasiness …. and then pushes beyond.  Produced by Catfish Studios, MORRIS COUNTY will be released on DVD,
Below is a trailer for MORRIS COUNTY:     Morris County Trailer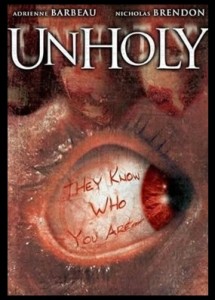 "UNHOLY"
Following World War II, a classified U.S. military document recounting the results of a Nazi occult experiment was uncovered and smuggled into an underground facility in Downingtown, Pennsylvania. Many years later, a mother (Adrienne Barbeau) and her son (BUFFY'S Nicholas Brendon) are confronted with the grisly reality of a family member's suicide. Are these events linked? What seems like a random family tragedy leads to a conspiracy of bizarre crimes, occult carnage and a necromancer who may control a new arsenal of demonic warfare including paranormal powers, time travel and satanic rituals.
UNHOLY, produced by Catfish Studios, is distributed worldwide by renown distributors Anchor Bay Entertainment, a division of Starz Media.
Below is a trailer for UNHOLY: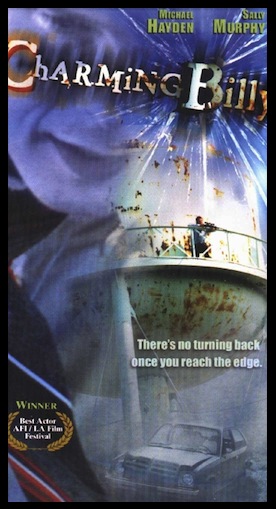 CHARMING BILLY is a feature length drama that is a haunting portrait of the quiet, desperate violence lurking beneath a deceptively smooth surface as one man struggles to understand what has led him to commit the unimaginable.
Produced by Catfish Studios, the script was a three-time finalist at the Sundance Institute's prestigious Screenwriting Lab. The film premiered at the AFI Los Angeles Int'l Film Festival where actor Michael Hayden won a coveted Best Actor award for his riveting portrayal of the title character. CHARMING BILLY was distributed by Wellspring Films (a division of The Weinstein Co.) and also broadcast on the Independent Film Channel.
Below is a trailer for CHARMING BILLY: